We long to be youthful and attractive for the rest of our lives, but it appears to be a pipe dream because age takes it away from us. And who can hide from the skin degradation caused by increased pollution and a stressed lifestyle? So, what should you do when your best friend's wedding, graduation day, or the first time you meet your partner's parents arrives? Continue reading to make the first and final impression of your radiant, young skin.
What is Skin Polishing?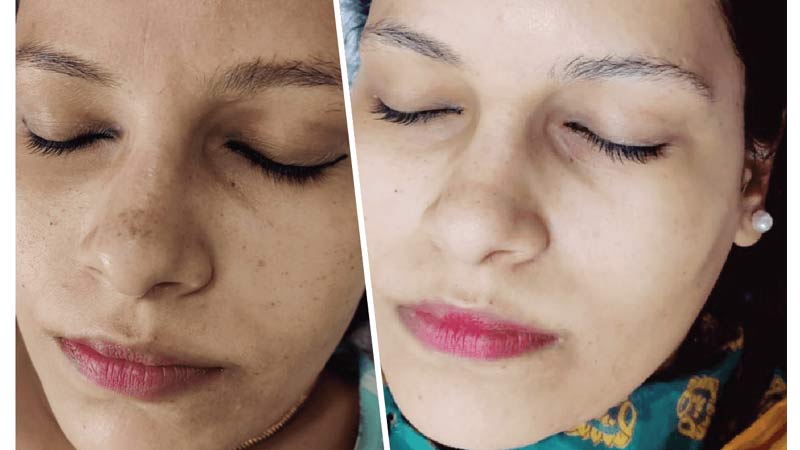 Skin polishing is a procedure for removing skin imperfections and blemishes, typically done in dermatology clinics. Skin polishing is still relatively new, developed in the early 2000s. Even though it is a newer procedure, it has proven to be quite effective in correcting all skin imperfections virtually. This is an amazing option for repairing skin damage.
What is The Procedure for Skin Polishing?
This therapy involves polishing the skin with gentle, circular strokes with a portable microdermabrasion instrument. As a result, the skin is smoother and more refined, with fewer wrinkles, blackheads, and scars. This procedure makes your skin appear naturally younger and more beautiful.
This skin treatment promotes skin cell renewal, restoring lost elasticity and brightness. Furthermore, this procedure increases collagen formation in the skin, resulting in smaller pores and increased skin firmness.
It may be done at home or a dermatologist's office. It should also never be done without the supervision of a skin professional.
How Much Does Skin Polishing Treatment Costs?
This therapy normally costs between Rs 1,500 and Rs 3,000 for each session. You may require up to six sessions to achieve the desired outcomes. After the initial six sessions, a monthly treatment will help you retain your skin's youthful radiance.
How Long Does The Procedure Take?
Each skin polishing session lasts between 45 minutes to an hour, depending on the region being worked on.
Types of Skin Polishing Treatments
There are many skin polishing treatments, including microdermabrasion and chemical peels.
Microdermabrasion is a non-surgical procedure using a mechanical handpiece to remove the top layer of dead skin cells gently. This process may also include chemical solutions to help dissolve excess skin cells. Fine wrinkles, acne scars, and hyperpigmentation (dark spots) can all be reduced with this therapy. It also increases collagen formation, which may aid in the reduction of aging indications like wrinkles and age spots.
Chemical peels have been around for decades as an effective way to improve the appearance of your skin by improving texture and reducing signs of sun damage, hyperpigmentation, and acne scars. There are many types of chemical peels — what works best for you will be determined by your skin type and desired outcomes.
At Kolors Healthcare, we offer both microdermabrasion and chemical peels to give you an effective treatment plan that will remove dead surface skin cells from the top layer down while stimulating new cell growth from within your dermis.
Benefits of Skin Polishing
Some of the Benefits of Skin Polishing Are As Follows:
Skin texture has improved
Acne and pimples are reduced
Pore reduction
Skin tone that is more even
Less flaking, dryness, roughness, and discoloration
Controls excessive sebaceous gland oil production
Removes undesirable pigmentation to improve overall complexion
Side Effects of This Treatment
This treatment has no significant side effects. In rare circumstances, you may notice minor redness, itching, and swelling lasting 2-7 days. Additionally, after the surgery, you may notice a little skin peeling that lasts around five days.
Post-treatment guidelines
Individuals getting the therapy are recommended to avoid exposure to sunlight. Sunscreen should be used liberally to provide adequate sun protection.
Sauna, sunbathing, and steam treatments should be avoided for the next 7 days following this therapy.
After completing one session, the client is encouraged to wash his or her face only after 6 to 8 hours. A moderate face wash should be used instead of harsh soaps.
Every session should be followed by a 3 to 4-week rest to allow the skin to repair and renew completely.
Any application should be avoided for 3 to 4 days following the therapy.
Final Thoughts
Skin polishing is a therapy that you may want to explore if you want younger-looking skin or to lessen the appearance of fine lines, crow's feet, or wrinkles. It is non-invasive and safe, with apparent benefits after only a few sessions. However, it is best to have it done by a skilled dermatologist.
At Kolors Healthcare, we offer a non-aggressive skin polishing treatment that treats various skin conditions, including smoothing wrinkles, fine lines, blackheads, and whiteheads, evening out skin tone in darkish regions, and acting proactively on wide-open pores.
You may make an appointment by going online or calling +91 90144 96666. You may also share your contact details and request a callback. Our customer service representatives will gladly assist you in scheduling a consultation with a skincare expert at your chosen time at your local Kolors Healthcare facility.
Skin Polishing FAQs
1. Does Skin Polishing Hurt?
The radiance will accompany stinging, redness, and skin flaking, but they will only last 2-7 days. You would have to forgo cosmetics for a day and minimize exposure to excessive heat and the sun, as instructed by the dermatologist.
2. How Long Does Body Polishing Last?
A regular skin polishing treatment lasts 6 to 12 weeks, and no sooner than that does the skin begin to improve in terms of reducing marks and scars or eliminating dead cells to lighten the skin while also making it smoother and softer.
3. Does Skin Polishing Remove Tan?
Body polishing exfoliates, eliminates dead skin cells, and moisturizes the skin. When done regularly, this method aids in tan removal and even shuts pores, resulting in a lighter skin tone.
4. How Often is Skin Polishing Done?
It is advised that at least four sessions be completed to notice apparent effects. A monthly session is recommended to preserve the outcomes.
5. Is Skin Polishing Good for Oily Skin?
Yes, skin polishing is a process that is appropriate for all skin types.