Everyone wishes for glowing, healthy, and attractive skin. However, the skin does not always comply. It displays the actual age over time. More specifically, it is a window that reveals all the innermost health difficulties.
Skin is a barrier against rashes, bruising, and sunburns, and the best method to care for it is to maintain it clean, healthy, and fresh at all times. Skin whitening therapy is one of the most secure methods of doing so.
Skin lightening is a cosmetic treatment that reduces the appearance of dark spots, age spots, melasma, and hyperpigmentation on the skin. It typically involves topical creams, serums, or gels containing ingredients such as hydroquinone, glycolic acid, or Vitamin C. Skin lightening can improve the overall skin tone and create a more even complexion. However, it is essential to consult a dermatologist before starting a skin-lightening regimen to ensure safety and effectiveness. You might want to check out the skin whitening treatment cost in India before proceeding further.
Kolors Skin Whitening Treatment Clinics in Hyderabad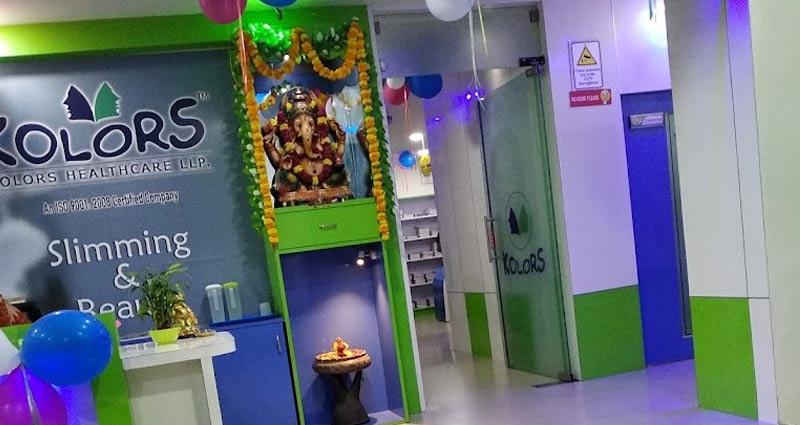 Help Desk: +91 7669597887
Is Skin lightening treatment permanent?
The results of skin-lightening treatments might endure for several months to many years.
Dermatologists advise the following precautions to preserve the benefits of any skin-lightening treatment:
Maintaining a healthy lifestyle
Using a decent sunscreen to shield your skin from the sun's damaging rays
Maintaining a basic skincare regimen
Choosing maintenance sessions regularly
Consuming a well-balanced meal and boosting your water consumption
Bleaching agents and chemical peels have temporary effects. Laser treatments, however, provide a reasonably long-term option for skin whitening. Tattoos and birthmarks may be permanently removed with laser therapy. However, tan and melasma cannot.
Skin lightening treatment options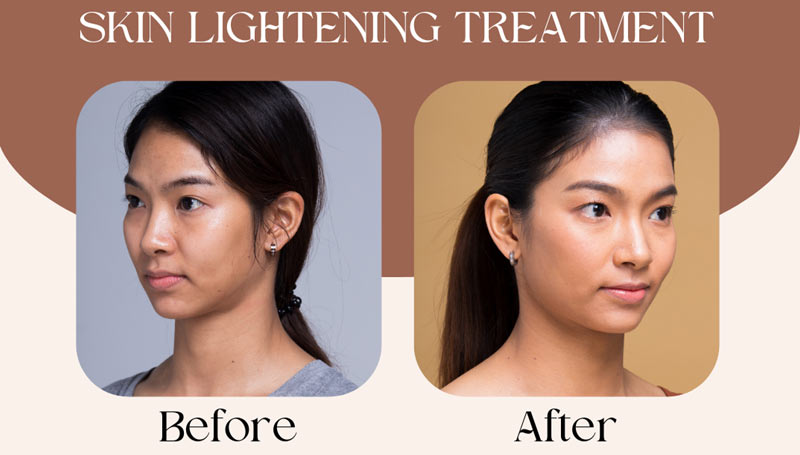 Chemical Peels
Chemical peels are skin resurfacing treatments that exfoliate or remove damaged outer layers of skin using a chemical solution. The action causes the top layer of skin to partially or completely detach from the lower layers underneath and slough off to reveal fresher, healthier skin.
Chemical peels are classified into three varieties according to their concentration: light, medium, and deep. A chemical peel is a mild choice for lightening discolored skin by efficiently removing face blemishes, tan, and dark spots and leveling skin tone.
Chemical peels are appropriate for skin-lightening procedures on the face.
IPL (Intense Pulsed Light Laser)
Long considered a non-invasive alternative to surgery, intense pulsed light as a form of low-level laser therapy has become the treatment of choice for many dermatologists.
Dermatologists employ a focused beam of light during laser therapy to reduce melanin accumulation in the target region. The skin's immune system finally removes the pigment residues. As a result, the skin seems healthier and brighter than it was. The skin that has been rebuilt is perfect. Laser therapy aids in the efficient reduction of skin pigmentation, dark patches, sun tanning, and lackluster skin. In addition, laser therapy is safe for lightening the skin tone on the face and other body parts.
PRP (Platelet Rich Plasma)
Platelet Rich Plasma (PRP) is a treatment for skin rejuvenation. It is a naturally occurring protein and is derived from your blood. The main goal of PRP is to stimulate the body's natural healing process. This will improve skin texture, elasticity, hydration, and clarity.
Skin Lightening Before And After Results: We will use the images listed on the website. (text to be deleted)
Post-treatment Guidelines
Chemical Peels
The following are the post-treatment guidelines for chemical peels:
Wash your face with warm water, pat dry, and apply a thin layer of moisturizer.
Over-the-counter products can soothe the skin during healing.
Avoid sun exposure for at least 24 hours after the treatment. If you have dark spots or other skin discolorations, avoid going out in the sun while they heal.
Avoid heavy exercise, extreme heat, or humidity when you receive a peel treatment.
Avoid using certain products (including oil-based makeup) that may interfere with healing or irritate your skin.
IPL (Intense Pulsed Light Laser)
You may experience some redness, swelling, irritation, and tenderness the first few days following your treatment. Be sure to contact us immediately if these symptoms are severe or last longer than five days.
If you have had a chemical peel or microdermabrasion in the past month, do not have any waxing or electrolysis done for at least two weeks before treatment. If you have had any laser hair removal treatments in the past six months, wait at least eight weeks before having IPL performed on your face.
You should avoid using products containing aloe vera, vitamin E, and anti-oxidants for two weeks before treatment.
Avoid sun exposure for at least seven days after treatment. This includes tanning beds and sun lamps.
Do not use Retin-A or other vitamin A products for three weeks after treatment because they can increase the risk of post-inflammatory hyperpigmentation (PIH).
PRP (Platelet Rich Plasma)
After treatment, you may experience some swelling and mild bruising, which will resolve within 7-10 days. While performing this procedure, keeping your skin protected from the sun at all times is essential because it can cause hyperpigmentation if exposed to UV rays.
Finally
With seven clinics located in Srinagar Colony, Miyapur, Secunderabad, Dilsukhnagar, Attapur, Gachibowli, and Uppal for your convenience, Kolors Healthcare is the ideal place to have your skincare challenges addressed. Our doctors are vastly skilled and experienced in treating the skin. In addition, they use the latest technology and products to give you the best results.
Contact your nearest Kolors Healthcare location in Hyderabad today to schedule an appointment with one of our physicians.
Skin Lightening Products available in the Market & their prices
| Brand/Product Name | Active Ingredients | Price Range (INR) |
| --- | --- | --- |
| Fair and Lovely | Niacinamide, Vitamin B6 | 50-200 |
| Lotus Herbals Whiteglow Skin Whitening and Brightening Gel Creme | Saxifraga extract, Milk enzymes | 150-450 |
| Olay White Radiance Brightening Intensive Cream SPF 24 | Niacinamide, Sepiwhite | 500-1500 |
| Garnier Skin Naturals Light Complete Fairness Serum Cream | Lemon extract, Vitamin C | 100-250 |
| Melawhite Skin Whitening and Brightening Cream | Kojic acid, Licorice extract | 150-300 |
Skin care best practices
Below are some best practices to care for your skin in a more scannable format.
Skin Care Practice
Benefits
Regular Cleansing
– Removes impurities
– Prevents breakouts
– Maintains skin hygiene
Proper Hydration
– Improves skin plumpness
– Enhances skin elasticity
– Reduces the appearance of fine lines and wrinkles
Healthy Diet
– Nourishes the skin
– Promotes a clear complexion
– Provides essential nutrients for skin health
Stress Management
– Reduces skin inflammation and sensitivity
– Prevents stress-induced breakouts
– Promotes overall skin wellness
Adequate Sleep
– Enhances skin repair and regeneration
– Improves skin brightness and radiance
– Helps reduce under-eye puffiness and dark circles
Gentle Skincare Products
– Minimizes skin irritation and sensitivity
– Maintains the skin's natural moisture balance
– Reduces the risk of allergic reactions
Skin Lightening treatment FAQs
What is the purpose of skin-lightening treatment?
The primary purpose of the skin lightening treatment is to improve the overall appearance of your skin by reducing dark spots, age spots, and other types of blemishes caused by excess melanin in the skin.
Is skin lightening treatment safe?
Yes, skin-lightening procedures like lasers, chemical peels, and lightning injections are safe since they attempt to diminish melanin synthesis in the skin. However, it is recommended to visit a physician to determine which skin-lightening treatment option is appropriate for you.
Does the treatment cause any pain?
The process of lightening your skin is a procedure that involves your dermatologist or plastic surgeon injecting your skin with a mixture of different medications to help lighten it. This can be an uncomfortable process, but we assure you that it will not be painful no matter what we do. In addition, we will use numbing creams and other topical medications so that you do not feel any pain during the procedure.
What are the side effects of skin-lightening treatment?
The laser whitening treatment can cause side effects such as bruising, skin dryness, sensitivity to sunlight, tightness, swelling, skin infections, skin texture difference, pigmentation, and irritation.