Unwanted hair can concern many people, as it can cause physical discomfort and lead to insecurities about one's appearance. Unwanted hair growth like leg hair, arm hair, back hair, ear lobes, and facial hair is a common problem. In addition, hair on specific body parts compromises the looks and stops one from wearing their preferred clothes or flaunting the looks.
Hair on the body, on the other hand, is considered macho for guys. However, seeing the same hair in the incorrect locations is embarrassing and can hurt one's self-esteem. Hair bursting on earlobes is a simple example of an unpleasant look that can cause social distress.
If your unwanted hair has caused you to make a poor impression on others, it is even more essential to remove it and maintain it clean. So, how do we go about it? First, choose your nearby Kolors Health Care Clinic and walk in for the finest solution. Kolors' Hyderabad laser hair removal clinics provide a variety of laser hair removal procedures to help you get rid of your unwanted hair.
Permanent Laser Hair Removal Treatment Cost in Hyderabad
A tiny region, such as the top lip, may only require a few minutes of treatment. However, treating a wider region, such as the back, may take longer.
The cost for laser hair removal at our clinics depends on the area of the body and the number of sessions required to complete the procedure as recommended by our specialists after a detailed assessment. The price is around Rs. 4,000 for a single session for regions like lips, cheeks, neckline, and ears. We have also created attractive packages and offers you can avail of.
| Area | Price(Rs) | Up to 15 Sessions |
| --- | --- | --- |
| Upperlip | 5000 | 75000 |
| Lower Lip | 3800 | 57000 |
| Chin / Chin Meduim | 3800 | 57000 |
| Cheeks | 4000 | 60000 |
| Blow line | 5000 | 75000 |
| Neck line | 4000 | 60000 |
| Jaw line | 5000 | 75000 |
| Side face | 8000 | 120000 |
| Side locks | 5000 | 75000 |
| Eye Brows | 6000 | 90000 |
| Eye Brow Middile | 3800 | 57000 |
| Forehead | 8000 | 120000 |
| Full Arms | 20000 | 300000 |
| Full Legs | 25000 | 375000 |
| Full Back | 30000 | 450000 |
| Full Front | 30000 | 450000 |
| Half Legs | 15000 | 225000 |
| Under arms | 5000 | 75000 |
| Abdomen: Center line | 8000 | 120000 |
| Chest | 8000 | 120000 |
| Bikini line | 10000 | 150000 |
| Pubic area | 20000 | 300000 |
| Toes | 5000 | 75000 |
| Feet | 4000 | 60000 |
| Ears | 4000 | 60000 |
| Chest Middle | 4000 | 60000 |
Note: These are just estimated Cost. Please contact Kolors to know the actual cost as of today.
Laser Hair Removal Clinics in Hyderabad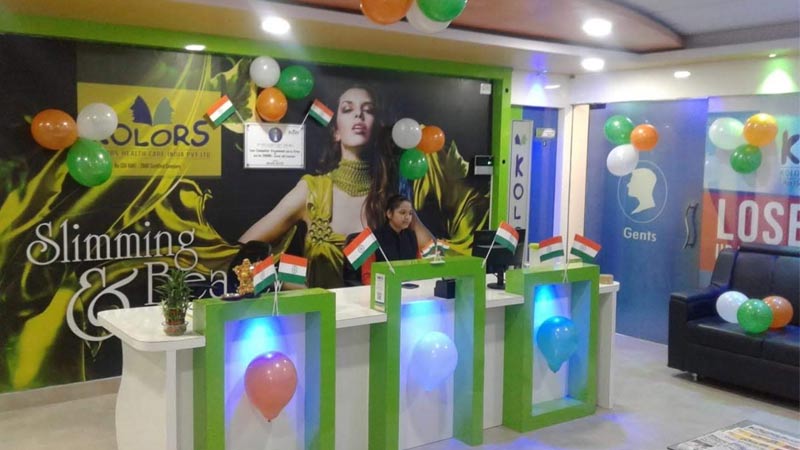 Help Desk: +91 7669597887
Why is laser hair removal done?
Shaving, waxing, plucking, and applying depilatory lotions are procedures for eliminating unwanted hair. These procedures, however, can be time-consuming and uncomfortable, and they may give temporary results. Laser hair removal is a common cosmetic technique in removing unwanted hair from the face, torso, or legs using lasers. Let's have a look at some of the primary reasons –
To reduce unwanted hair growth that may be socially stigmatized or uncomfortable
To improve self-esteem by removing hair from visible areas such as the face, legs, or arms
To eliminate the hassle and expense of regular hair removals methods like waxing, shaving, or plucking
To wear certain clothing styles or swimwear with confidence
To achieve a smoother and clearer skin complexion by removing hair that may cause irritation or ingrown hairs
How to Prepare for Laser Hair Removal?
To prepare for laser hair removal, one must take care of the following points:
Avoid sun exposure and tanning
Shave the treatment area before the appointment
Avoid waxing, plucking, or electrolysis 4-6 weeks before treatment
Stop using products with retinoids or alpha-hydroxy acids
Inform the specialist of any medications you are taking
Discuss any medical conditions or concerns with the specialist before the treatment.
What to Expect During Laser Hair Removal?
The time required
Two to six laser hair removal sessions usually are required. The time between treatments will vary based on the area of your body you want the treatment done. One has to undergo the treatment every four to eight weeks in regions where hair grows fast, such as the upper lip. The treatment may be repeated every 12 to 16 weeks for areas with sluggish hair growth, such as the back.
Preparation for the procedure
Wear protective goggles throughout each treatment to protect your eyes from the laser beam. If required, an assistant may shave the location again. The doctor may administer a topical anesthetic to your skin to alleviate any discomfort during treatment.
During the procedure
The doctor will apply a hand-held laser device to your skin. Then, depending on the laser, a cooling device or a cold gel is used to protect your skin and reduce the chance of adverse effects.
When the doctor activates the laser, the laser beam passes through your skin to the hair follicles. The laser beam's intense heat destroys the hair follicles, inhibiting growth. As a result, you may experience discomfort, such as a heated pinprick, and a sense of coolness from the cooling device or gel.
Benefits of Laser Hair Removal
Laser hair removal has various advantages over traditional techniques of hair removal, such as shaving, waxing, and plucking, including:
Long-lasting results: Laser hair removal provides a permanent or long-term reduction in hair growth in treated areas.
Precision: Lasers target hair follicles precisely, minimizing the risk of damaging surrounding skin tissue.
Faster treatments: In just minutes, you can get rid of unwanted hair without any pain or discomfort. The procedure uses intense pulses of light energy that pass through the skin and destroy the follicle at its base without damaging the surrounding skin tissue.
Fewer ingrown hairs: Ingrown hairs are a common side effect of traditional hair removal methods but are less likely to occur with laser hair removal.
Reduced hair growth: Laser hair removal slows down the rate of hair growth, reducing the need for frequent hair removal.
Reduced hair thickness: Over time, laser hair removal can result in finer, less noticeable hair growth.
Fewer visits: Full body treatment requires fewer sessions than other techniques of hair removal, such as waxing or shaving.
Conclusion
In Hyderabad, Kolors Healthcare offers seven laser hair removal clinics in Srinagar Colony, Miyapur, Secunderabad, Dilsukhnagar, Attapur, Gachibowli, and Uppal. Because these clinics are in great locations and easily accessible from Hyderabad's foremost residential and business regions. The hair removal professionals at Kolors Health Care are highly trained and knowledgeable. In addition, our laser technology is the most effective way to reduce unwanted hair permanently. Contact your nearest Kolors Healthcare location in Hyderabad today to schedule an appointment with one of our physicians.
Permanent Laser Hair Removal FAQs
1. What should I do after getting laser hair removal?
After getting laser hair removal, you should follow the aftercare instructions provided by your practitioner. Some common steps include:
Avoid sun exposure for several days to reduce the risk of skin irritation or pigmentation changes
Avoid hot showers, saunas, or steam rooms for 24-48 hours
Apply a cool compress or aloe vera gel to soothe the skin
Avoid picking or scratching at treated areas
Avoid using exfoliating or aggressive skincare products
Avoid waxing, tweezing, or using hair-removal creams on treated areas
It's also important to follow up with your practitioner for recommended follow-up appointments to track your progress and make necessary adjustments to your treatment plan.
2. When can I see the results after having laser hair removal?
It typically takes 10-12 weeks to several months to see results after laser hair removal. Hair growth occurs in cycles, so multiple treatments are needed for the best results. The number of treatments required and the time between treatments depends on factors such as hair color, skin type, and the treatment area. It is important to follow aftercare instructions provided by the clinic, such as avoiding sun exposure and using appropriate skincare products.
3. What are the possible side effects of laser hair removal?
Laser hair removal is generally considered safe, but as with any medical procedure, there can be side effects. Skin redness, itching, and swelling are among the most common adverse effects, and they usually go away within a few hours to a few days. Other potential side effects include skin lightening or darkening, blistering, scarring, and infection. In rare cases, people may experience more severe side effects, such as changes in skin texture, hyperpigmentation, and hypopigmentation. Contact your doctor immediately if you experience any side effects from laser hair removal.